Canada recognizes that it cannot contain the transmission of COVID-19 on agricultural farms
July 1, 2020 por Isolda Barrera
Share this on social media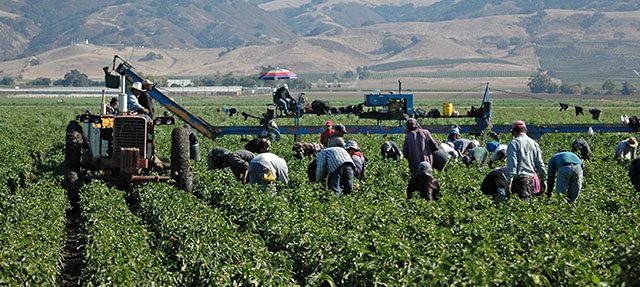 The authorities' interest comes after three Mexican workers died as a result of the disease
Canadian authorities recognized this Monday their powerlessness to control the spread of COVID-19 in farms that employ hundreds of Mexican, Central American, and Caribbean seasonal workers and have become the country's main infectious focus.
The province of Ontario, the largest and most populous in Canada, recognized over 257 new cases of COVID-19, that is 44% more than the previous day, after the authorities started a surveillance campaign in a rural area in which they concentrate the agricultural exploitations.
Of the 257 new cases announced, 177 were detected in the Windsor-Essex area, located along the border with the United States where both countries house major farms.
The interest of the Canadian authorities in the spread of COVID-19 in areas where latinos work and live temporarily after three Mexican workers died as a result of the disease.
In all three cases, Mexican seasonal workers contracted the disease in Canada. In addition, at least 600 other seasonal workers have been infected with COVID-19 after arriving in the country.
Canadian Prime Minister Justin Trudeau has recognized in recent days the conditions in which foreign workers find themselves, but has blamed the high transmission of the disease to employers.
Ontario's head of government, has also criticized farm entrepreneurs who are not protecting foreign temps, but authorities have refused to close farms with high infection rates.
In addition, the government authorized last week that temporary workers infected with COVID-19 but without symptoms continue to work. Canadian authorities also allow quarantined foreign agricultural workers to go to work.
Related publications
Oct. 10, 2019 por Isolda Barrera
Protesters in Montreal completely shut down the Jacques-Cartier Bridge after climbing it to the top this morning. The activists, part of Extinction Rebellion, were attempting to hang several banners. On Tuesday the protest took place and this week marks the ...
Continue reading »