Melania and Ivanka Trump had a discussion about White House space and Melania won
Sept. 18, 2019 por Isolda Barrera
Share this on social media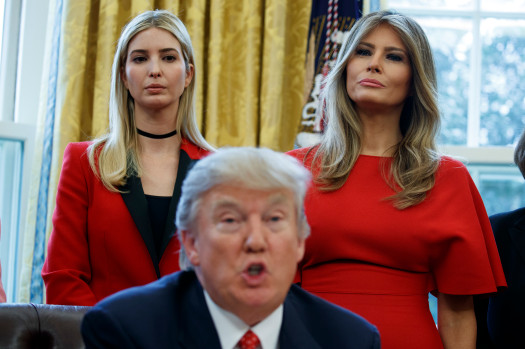 Are Melania and Ivanka Trump friends? It has been said that the couple gets along, but recent claims have described the tension between the two women.
Donald Trump's wife is only 11 years apart from her daughter.
Ivanka maintains his relationship with the ex-model in private and has never discussed it publicly. However, Melania's spokeswoman has touched on the issue.
In previous interviews it has been said that the two women share a relatively good relationship.
Melania has previously commented on the children of Donald Trump in interviews that "They are adults. I don't look like their mother. I'm their friend, and I'm here when they need me."
According to information that was shared, there is talk of a moment where there was tension in the White House after Melania did not agree on how Ivanka wanted to use an office space.
Donald Trump has an ambivalent attitude in the case and situations of his daughter and son-in-law working in the White House. "He was very ambivalent about them entering, he hates when they receive negative press." It is said to be one of the reasons why the two still remain in the White House. Trump previously ordered his Chief of Staff to force the two to resign, at the moment of truth, Trump could not do it, he could not send his daughter home.
Few have faced Ivanka and her husband and won, for example, first lady Melania Trump. She had a confrontation with Ivanka and won.
The aforementioned confrontation took place during a time in which Ivanka Trump had made public that he had no plans to join the White House. Something that soon after proved otherwise. But she already had time working on plans to convert an office space in the White House into a "Trump family office" that would be made in the East Wing, this space is usually from the First Lady. When the First Lady, Melania Trump learned a halt to Ivanka's plans.
It is not the first time that President Trump's daughter and son-in-law give what to talk about and several attribute their bad behavior to the fact that most of the people who enter to work in the government are to do public service jobs, on the contrary of them who seem to have gone for self-service.
Related publications
Oct. 10, 2019 por Isolda Barrera
Protesters in Montreal completely shut down the Jacques-Cartier Bridge after climbing it to the top this morning. The activists, part of Extinction Rebellion, were attempting to hang several banners. On Tuesday the protest took place and this week marks the ...
Continue reading »