Montreal Cartier Bridge completely shuts down after protesters climbed it
Oct. 10, 2019 por Isolda Barrera
Share this on social media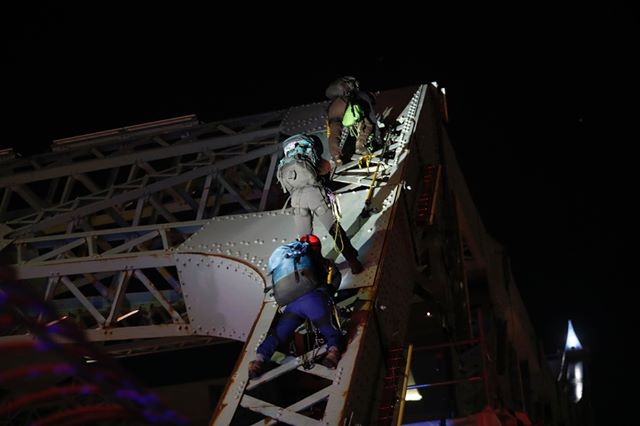 Protesters in Montreal completely shut down the Jacques-Cartier Bridge after climbing it to the top this morning. The activists, part of Extinction Rebellion, were attempting to hang several banners.
On Tuesday the protest took place and this week marks the week of International Rebellion by activist group Extinction Rebellion and on Tuesday they decided to climb the Montreal's Jacques-Cartier Bridge.
The bridge was closed on both directions as teams were attempting to bring the activists back down to the ground.
Authorities at the Jacques-Cartier Bridge through their Twitter account made the announcement, letting their commuters know the bridge was closed at the moment of the protest from both directions. The situation stayed like that for about an hour.
The protester from the Extinction Rebellion began their climb at around 7 in the morning and had been fighting against the with rescue crews for about an hour, then the fire teams tried to assist by helping bring the men down to end the disruption at the bridge.
The goal of the Extinction Rebellion is to fight the environmental crisis that is going on, the protesters wanted to place the banners to make their point and show the lack of action towards the topic.
But at the moment of that the protester where on the bridge other members of the activist group where on the ground that were ready to hold a street rally later on that afternoon near the Place du Canada.
Various bystanders and commuters were able to snap some shots during the moment that the protesters where climbing the bridge, as well as the moment when they were atop of the structure.
Many people in the area began hearing helicopters as early as 6:45.
Protesters were believed to be speaking for the people of Montreal who in September 27th marched during the Climate Change protest. Around five hundred thousand were said to have attended that march.
The Fire Department called the incident an hour later, most likely after being able to bring the protesters down safely. As of their legal situation that is still not clear yet. Activities have gone back to normal at the bridge.
Related publications
Aug. 14, 2019 por Isolda Barrera
**Chicago Caribbean Carnival Parade and Festival** Date: Saturday, August 17, 2019 From 10AM to 9PM Place: Midway Plaisance Park 1130 Midway Plaisance Park Chicago, Il 60687 Chicago get ready to celebrate in this Caribbean carnival inspired event, bringing music and ...
Continue reading »